Grand Rapids, Michigan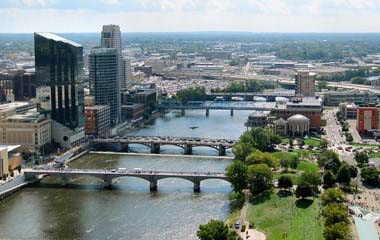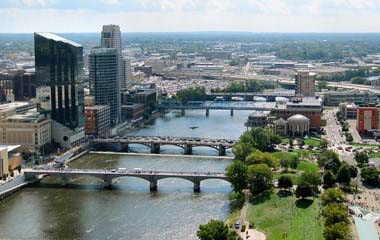 More than 2,000 years ago, Native Americans associated with the Hopewell culture occupied the Grand River Valley. The Hopewell were mound builders, constructing great geometric earthworks that served as enclosures, burial places, defensive structures and religious sites.
Grand Rapids is home to the most important and best-preserved Hopewell mounds in the western Great Lakes region. The Norton Mound Group, located on the banks of the Grand River southwest of downtown, is a National Historic Landmark listed on the National Register of Historic Places.
Around 1700 A.D., people of the Three Fires - the Ottawa (Odawa), Chippewa (Ojibwa) and Potawatomi Indians - established villages in and around what is now Grand Rapids. Nineteen Ottawa chiefs once governed the lands along the Grand River from Grand Haven to Lansing, and their biggest village and main gathering place stood at the site of present-day downtown.
The people of the Three Fires called themselves the Anishinabek - "The Original People." Accomplished hunters, fishers, gatherers and farmers, they found everything they needed to thrive in the abundant natural resources of this region.
That life changed in 1821, when the Treaty of Chicago gave the United States control of the land south of the Grand River. The area was opened up to settlement, and Native Americans were increasingly displaced, and often forcibly relocated, to make room for new arrivals.
The city's name comes from the Grand River, Michigan's largest inland river.
Gerald R. Ford, a native son, became the 38th President of the United States on August 9, 1974 and his presidential library is a much visited attraction. Grand Rapids is also home to two Frank Lloyd Wright designs - the privately owned Amberg House and Meyer May House, which is open to the public three days per week.
Grand Rapids is Michigan's 2nd largest city, with a metro-area population of 1.3 million and is headquarters to many national and multi-national headquarters including Steelcase, Herman Miller, Haworth, Alticor (formerly Amway), Wolverine World Wide, Meijer and Zondervan.
Michigan is 2nd only to California in agricultural diversity and America's 3rd largest apple producer with Kent County producing more than any other Michigan county.

Hockey Tournaments in Grand Rapids, Michigan